When I read about the opportunity to participate in the project in South Africa to observe elephants, I knew right away that this was what I was going to do. As someone who is often indecisive, this was quite remarkable. Nothing could stop me from signing up.
So I signed up, and then the hoping began that I would be chosen. Since I had absolutely no background in the field of animals, I had the idea that it might be difficult. However, I have a deep passion for elephants, so I hoped that would be enough.
I was quickly invited to a conversation with Brooke, she is responsible for the entire research in South Africa. It was an online conversation about why I wanted to participate in the project. It was a pleasant conversation, and time flew by. And now it was all about waiting and hoping.
After three days, the liberating email arrived. I read it four times and even showed it to my husband, but it was true. I was going to Africa! How amazing!
Blog by Karin van Norden
After an online meeting with the entire team, we were able to ask questions about the entire project. And so it slowly came to life. We also received a lot of information to familiarize ourselves with the behavior, anatomy, communication, and more of the elephants.
October 8th finally arrived, and with a backpack I headed to Schiphol Airport. There, I met Paula, a team member also form The Netherlands. We had already met online and had kept in touch to book flights and accommodations. We had never met in person, but our shared passion for elephants quickly created a connection. Together, we boarded the plane, going on our adventure.
And what an incredible experience it turned out to be!
In Port Elizabeth, we already met a part of the team. We had booked a B&B together and went out to dinner as a group. The following day, we were picked up and headed towards our accommodation for the next 10 days. We were warmly welcomed by the other team members, under which Brooke and Antoinette, founder if Bring the Elephant Home.
The rooms were quickly assigned among us. I shared a room with two other ladies, and it went very well.
Day 1
A perfect start to the day, as we went into the field. It was not to make observations but simply to explore the environment and the animals that inhabit it. We quickly found ourselves in a state of constant wonder. Giraffes gracefully towered above the trees or stood defiantly in the middle of the road, showing no intention of moving. Zebras grazed peacefully in large herds. Two lions lazily glanced in our direction. Rhinos strolled calmly across the road ahead of us, and warthogs sprinted in front of our vehicle.
And that was just the first day.
In the evening, gathered around a campfire, we got to know each other as a group. We discussed the incredible things we had all seen and shared our experiences.
Day 2
The following day, we received an explanation about the elephants – their behavior, anatomy, and identifying features. You learn to look at an elephant in a different way, from the shape of their ears, head, back, and belly to recognizing differences in their ages. The day flew by and ended with a drink by the beach.
Day 3
The day after that, it was finally time! We headed into the field for observation, which was quite exciting because now it had to happen. When we spotted a herd of elephants, we could briefly enjoy the sight, but soon we had to grab our iPads and get to work. We worked in groups of three – one person observed, one entered data into the system, and the third took photos while keeping an eye on the surroundings. It took a bit of getting used to at first, but like everything, the more you practice, the more proficient you become. In the evening, we discussed the fantastic day by the campfire under a sky filled with an astonishing number of stars.
Day 4
We started working with all the data we had collected. Each team had its own "responsibility." I was part of the social media and dung team. Yes, I was co-responsible for processing elephant dung correctly. It's genuinely fascinating. Working with the team is so enjoyable, and you learn a tremendous amount from each other. Everyone has ideas to contribute, leading to great results. In the evening, we watched, unsurprisingly, "The Lion King" with an enormous amount of popcorn!
Day 5
Another day in the field! We made many observations, and you simply don't get bored when seeing elephants. You become more familiar with the system, recognizing their behavior and anatomy better as you go. It's amazing. Sometimes, you find yourself completely surrounded by elephants. To end the day on a cheerful note, we all went out to dinner. The food where we stayed was delicious, but going out was a lot of fun. The restaurant offered a beautiful view of the beach – who wouldn't want that?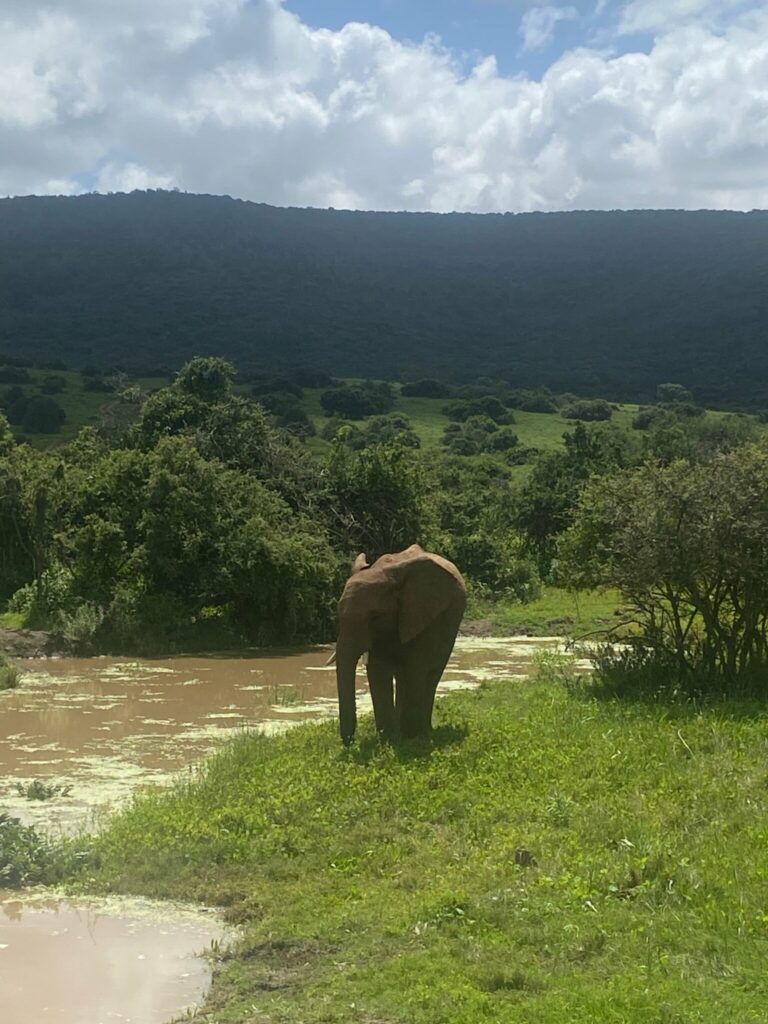 Day 6
The day started off well. After another delicious breakfast we went out to witness a training session of the APU, the Anti Poaching Unit. It was so impressive to see the dogs in action! It was interesting to learn how they were trained. We also immediately saw the animals they protect so well – the rhinos! Unfortunately, they had no horns, as it reduces the risk of poachers. Nevertheless, the rhinos still looked impressive. In the late afternoon, everyone got back to work with the data and creating beautiful videos for social media.
Day 7
This day started with a hike through the forest, leading us to the dunes. These were no ordinary dunes; it felt like stepping into another world. As far as the eye could see, there was only sand, and some sections sloped steeply downward. It was a sight to behold. On the way back, we walked along the beach, where we encountered beautiful seashells and unique creatures.
In the afternoon, we had a cultural excursion, not knowing what to expect. We drove to a community supported by the Kariega Game Reserve. Here, we had the opportunity to cook with three local women, which was a fantastic experience. On two gas stoves and an open fire which was burning outside we prepared a meal for 12 people. As a final treat, girls from the community put on a singing and dancing performance that was hard to resist participating in.
Afterwards, we made a quick trip to the supermarket to grab some delicious treats. We processed some data and then enjoyed another delightful meal.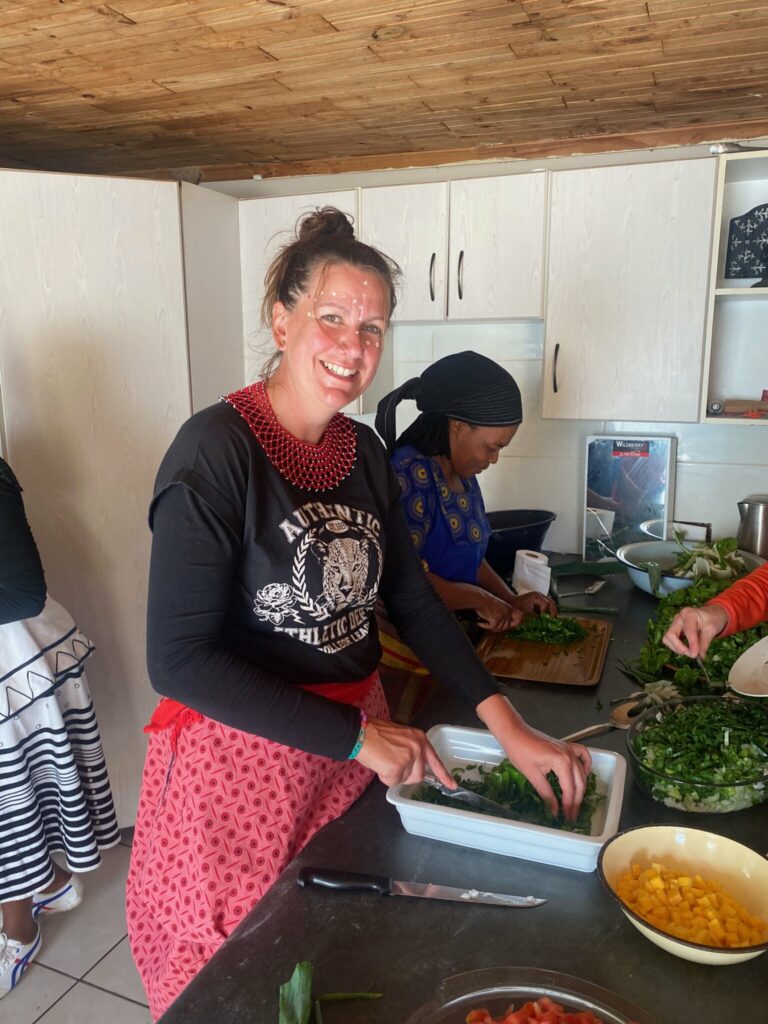 Day 8
Today, we had to wake up early as we were heading into the field. It was my turn to collect elephant dung. First, we measured the dung piles, and then we took three pieces from the center of three piles and rolled them into a single ball.
We had a wonderful lunch outdoors, surrounded by various animals.
In the afternoon, we received an explanation about the vegetable garden where we were staying. It was interesting to see how it was set up and how it also supported the local community. They received seedlings and instructions on how to care for the vegetables. Over the past few days, we had also been eating vegetables from the garden, which were incredibly fresh and delicious. Additionally, we had the chance to see a collection of skulls from elephants, rhinos and hippos, which was fascinating.
This was followed by a presentation on the relocation of an elephant herd to another park, which was a remarkable achievement. The day was already incredibly interesting, but it was far from over. After dinner, we went on a night safari, which was an extraordinary experience. The first thing that caught our attention was the moon. Being in a different part of the world, the moon appeared to have a smiling face, which I had never seen before. We couldn't help but gaze at it. There were thousands of stars, each one brighter than the other.
We drove through the same landscape as in the afternoon, but it was an entirely different world at night, especially when the car stopped and the headlights went off. We found ourselves in complete darkness, with only the sounds of animals around us. At one point, we were surrounded by elephants that we couldn't see but could hear them eating. It was a unique experience, a bit thrilling but truly remarkable. As we drove a bit further, we spotted a lion lying down. It looked a bit irritated by our presence, he was just relaxing. Slowly, he got up and walked away. Suddenly, he let out a loud roar, as if it came from the depths of its being. What an incredible sound! It was already midnight when we returned to our accommodation, tired but enriched by this amazing experience.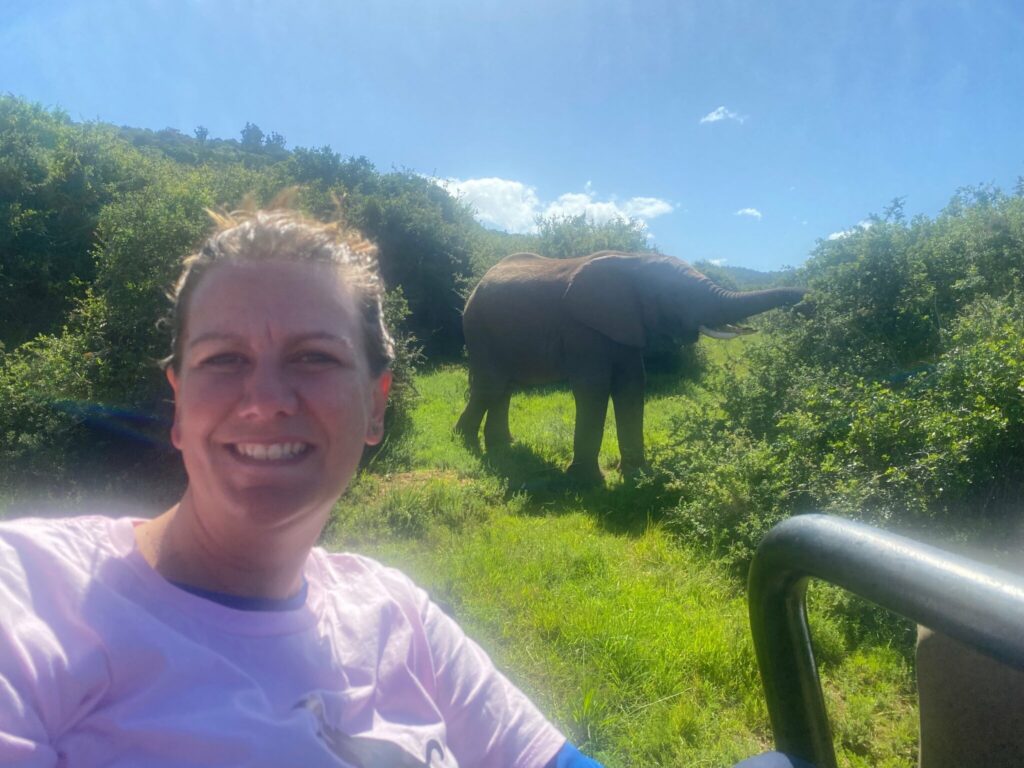 Day 9
Today, we visited Addo Elephant Park. Before entering the park, we made a stop at a restaurant for coffee. I had never had coffee that was so hot it needed 20 minutes to cool down. Even before reaching Addo Elephant Park, we spotted elephants. It was still a thrill to see them! At the park's entrance, we received a map to mark off the animals we saw. You could say we were quite fanatic about it. All in all, it was a beautiful day during which we saw not only elephants but also many dung beetles crossing the road at their own pace. There were also warthogs, zebras, turtles, and various other animals.
To end the day, we all went out to eat pizza together. I had never tried a pizza with figs and camembert before, but it was incredibly tasty!
Day 10
Today was the last day, and we headed into the field to find the elephants in Harvestvale, which were challenging to locate. We had been driving for a while without success, but that didn't matter. We spotted giraffes and zebras by the water with trees in the background, creating a beautifully scenic view. We also saw warthogs with their mothers crossing the road.
After some time, we picked up the signal and set off. We saw the elephants, but they were difficult to reach, so we decided to drive on an extremely high hill for a better view. With eleven people in one car, ascending a steep hill was quite an adventure, especially when the car stalled just before reaching the summit. It was a tense moment. However, we had an amazing driver with us every day, and without hesitation, she put us at the top of the hill. A tremendously tough girl who has been an intern at Kariega for a year and has been "watching over us" in the past few days, which she does fantastically.
On top of the hill, we were rewarded with a magnificent view, making the effort more than worthwhile. As we began the journey back, I closed my eyes for a moment because I'm not particularly fond of heights. However, as we had only driven a short distance, the road was still quite steep when we saw the herd in the distance. Suddenly, my fear of heights vanished, and I was focused entirely on the elephants. It was a magical sight to see them all crossing the road together. Unfortunately, they quickly disappeared into the woods.
Nevertheless, we found a way to reach them, and after a bit of driving, we saw the herd. There were large elephants, as well as young ones, all gathered together. The excitement within the team was immense as we had finally found them. Observations could now begin, and it was truly remarkable to experience this on our last day. The observation of these majestic animals never gets old.
Happily, we return to process the data. Then it's time for the team to head back to Port Elizabeth, where we've booked a B&B ourselves. We said farewell to a portion of the team, and everyone finds it hard to part ways. You spend so much time together and share a beautiful experience.
In the evening in Port Elizabeth, we have dinner with a large part of the group, which is a wonderful conclusion. Then it's really time for goodbyes as everyone flies back in the morning. I, along with two of my teammates, stay in Port Elizabeth for an extra day, which turns out to be a great choice. It's a chance to recover from this incredible experience. We went on a few more outings and saw dolphins and whales. We also visit a penguin rescue center.
Yes, we can't get enough of seeing animals. The next day, it's time to start the journey back to the Netherlands. But I can look back on an amazing experience, and I'm incredibly grateful for having had this opportunity. Beautiful to see the great work Bring the Elephant Home does for the elephants. This adventure is one I will not soon forget.
During our last evening, we discussed what we take home with us. It's been a fantastic experience, and personally, I want to learn more about animals and pass this knowledge on to my children. In the meantime, my first bird-watching book is already on the dining table, ready to be used. I never thought I'd become a bird-watcher, but an incredible journey like these changes you. You learn a lot about animals and also about yourself.
Karin van Norden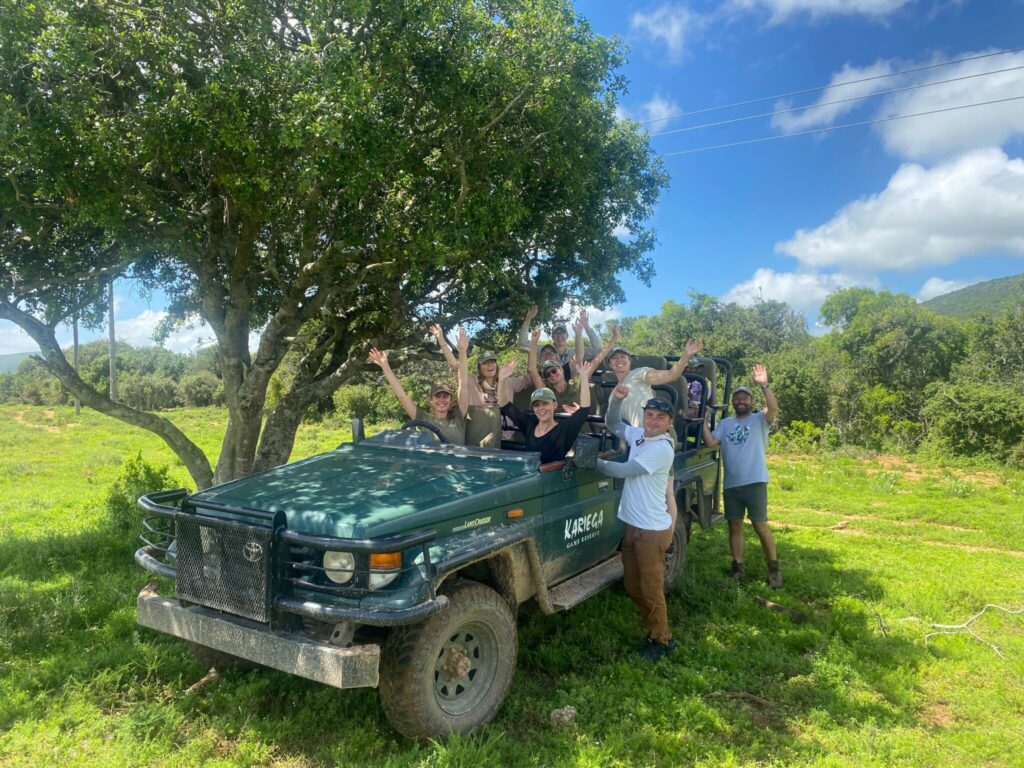 As an elephant research assistant, you can help Bring The Elephant Home and Kariega Game Reserve with an exciting research project focusing on range expansion and elephant well-being in South Africa! Read more.
‹ Back to previous page